Photos are for reference only. Lighting will affect the look of materials. Please order samples for an accurate depiction of finishes
Finishes
- Body

Espresso
- Cushion

Sunbrella Awning

Black

Natural

Crest Birch

Slate

Charcoal Grey

Smoke

Crest Ash

Oyster

Taupe

Cocoa

Heather Beige

Linen

Parchment

Terracotta

Jockey Red

Logo Red
Rust

Tuscan

Ocean Blue

Mediterranean Blue

Sapphire Blue
Sky Blue

Marine Blue

Pacific Blue

Capri

Aruba

Forest Green

Erin Green

Turquoise

Aquamarine

Sea

True Brown

Tresco Birch

Tresco Linen
Tresco Clay
Charcoal Tweed

Linen Tweed

Toast Tweed

Hemlock Tweed

Royal Blue Tweed

Mediterranean Blue Tweed
Dubonnet Tweed
Sunbrella Upholstery

Canvas Black
Canvas Coal

Canvas Granite

Canvas Natural

Canvas Taupe

Canvas Flax

Canvas Birds Eye

Canvas Vellum

Canvas Bay Brown

Canvas Cocoa

Canvas Camel

Canvas Heather Beige

Canvas Antique Beige

Canvas Henna

Canvas Terracotta
Canvas Brick

Canvas Rust

Canvas Tuscan

Canvas Jockey Red

Canvas Logo Red

Canvas Melon

Canvas Sunflower Yellow

Canvas Buttercup

Canvas Teak

Canvas Brass

Canvas Wheat

Canvas Fern

Canvas Forest Green

Canvas Macaw
Canvas Ginkgo

Canvas Parrot

Canvas Navy

Canvas True Blue

Canvas Pacific Blue

Canvas Regatta

Canvas Teal

Canvas Sapphire Blue

Canvas Sky Blue

Canvas Mineral Blue
Canvas Glacier

Canvas Aruba

Canvas Burgundy

Canvas Blush

Canvas Hot Pink

Canvas Spa
Dupione Walnut
Dupione Latte
Dupione Sand
Dupione Crimson
Dupione Papaya
Dupione Laurel
Dupione Paradise
Dupione Peridot
Dupione Aloe
Dupione Celeste
Dupione Galaxy
Cast Slate

Cast Shale

Cast Mist

Cast Ash

Cast Silver

Cast Lagoon

Cast Oasis

Cast Petal

Regency Sand

Maxim Heather Beige

Gavin Mist

Foster Surfside

Berenson Tuxedo

Linen Stone

Linen Champagne

Linen Antique Beige

Lido Indigo
Frequency Ash

Frequency Sand

Frequency Parchment

Echo Dune

Echo Ash

Foster Metallic

Dolce Mango
Echo Sangria

Bravada Salsa

Bravada Limelite

Echo Midnight

Seville Seaside

Shore Regatta

Cabana Regatta

Dolce Oasis

Shore Classic

Spectrum Coffee
Spectrum Caribou

Spectrum Graphite

Spectrum Eggshell

Spectrum Sesame

Spectrum Mushroom

Spectrum Sand

Spectrum Grenadine

Spectrum Cayenne

Spectrum Daffodil

Spectrum Indigo
Spectrum Denim

Spectrum Peacock
Spectrum Mist

Spectrum Cilantro
Serge Ferarri
7300-50867
7300-50868
7300-50869
7300-50870
7300-50871
7300-50872
7300-50874
7300-50879
7300-50890
7301-50875
7301-50877
7300-5384
7300-5392
7300-5393
7300-5394
7301-5402
Phifertex

black
burlap

dupione kiwi

dupione poolside

dupione sapphire

dupione spice

garden green

grey sand
metallica platinum

metallica salsa

metallica smoke

metallica white

navy pier

reflection seaglass

royal blue

snappy

straw mat blue

straw mat cognac

stucco

white
Twitchell
sea breeze
Stocked In:
- Espresso Duraweave Wicker
• Powder Coated Aluminum Frame.
• All Duraweave Wicker options available. Additional lead times and fees may apply.
• Standard Cushions are included.
READY TO SHIP
Dimensions
Seat Cushion Thickness: 2″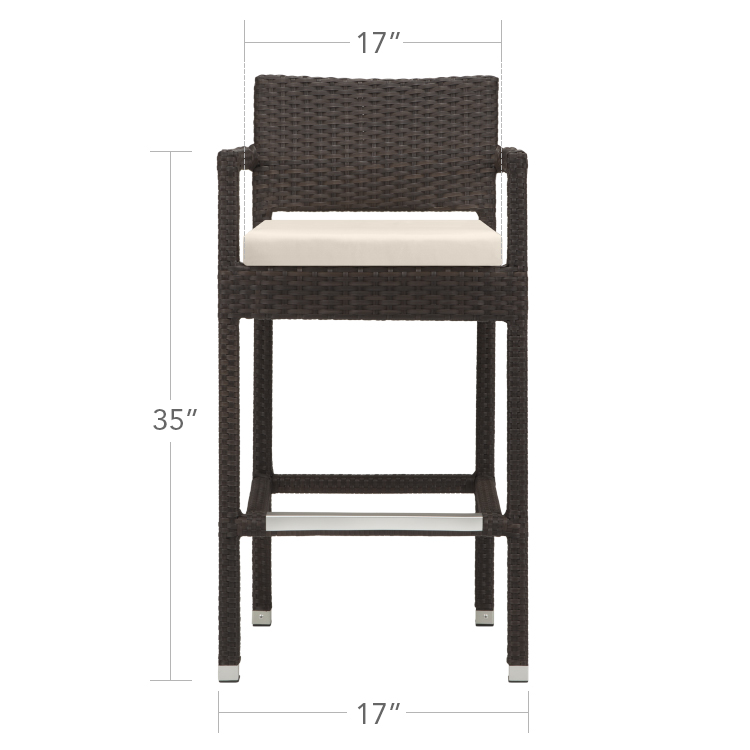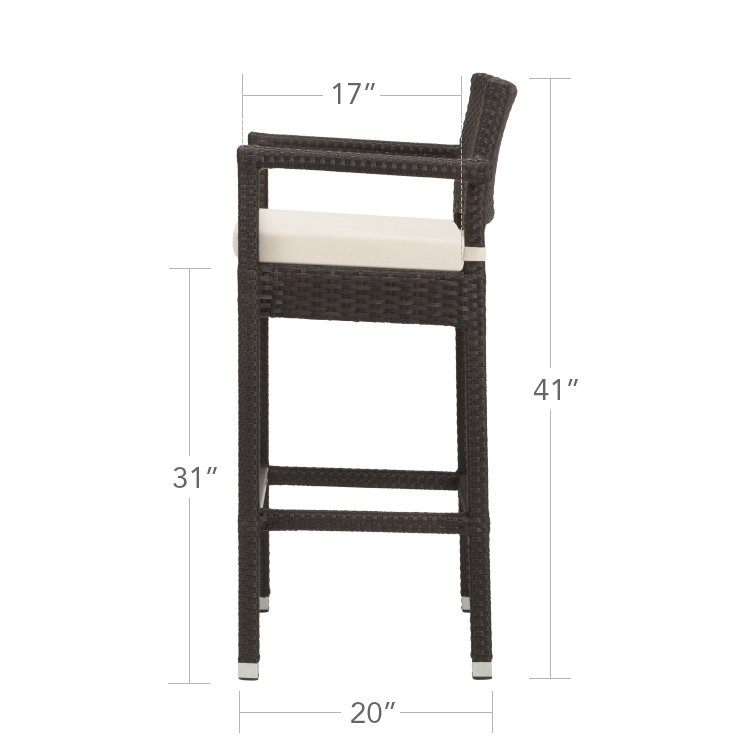 NOTE: Dimensions may vary by up to an inch. Weights are an estimate and for reference only.