Photos are for reference only. Lighting will affect the look of materials. Please order samples for an accurate depiction of finishes
Finishes
- Frame

bronze age

tex gray

tex black

tex bronze

kessler silver
midnight blue

champagne tex

tex white

hammer black

airship grey

seawolf

terra pewter tex

blue hawaiian river

cherry fizz
eminent ripple

sunrise river

grey black vein

splatter emerald

hana green

red silver

lemon silver

avocado copper
- Canopy
Sunbrella Awning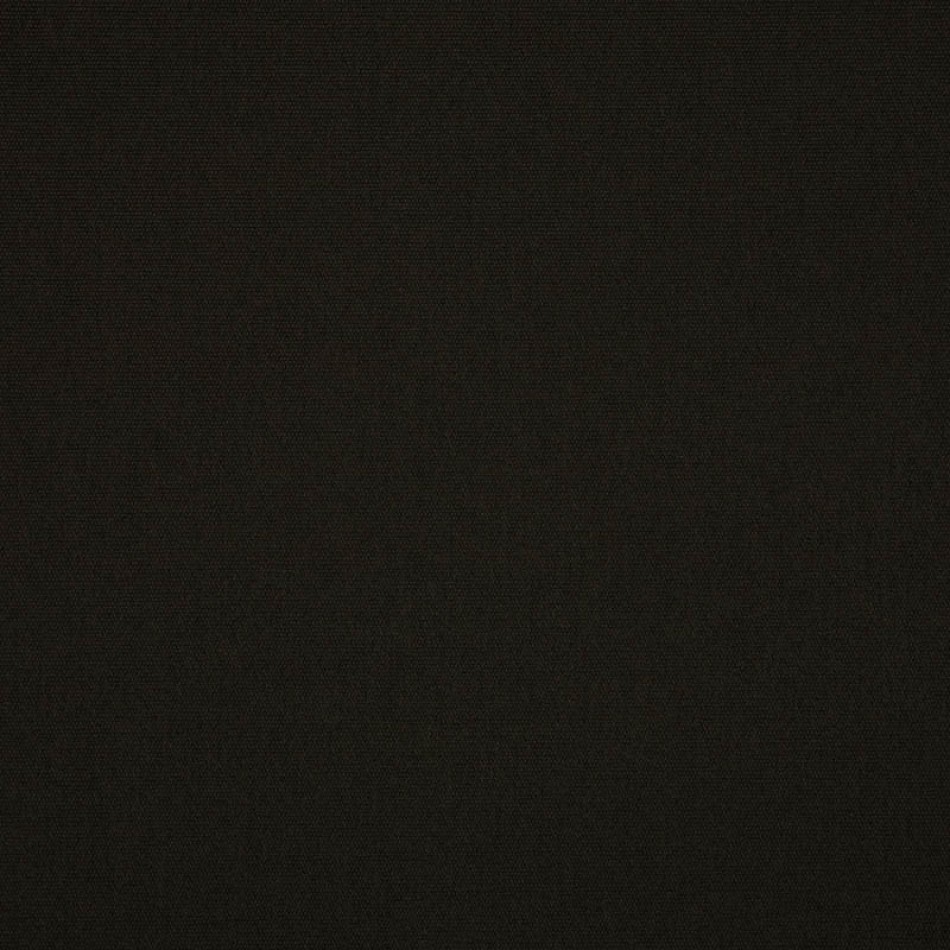 Black

Natural

Crest Birch

Smoke

Crest Ash
Oyster

Taupe

Cocoa

Heather Beige

Linen

Parchment

Terracotta

Jockey Red

Logo Red
Rust

Tuscan

Ocean Blue

Mediterranean Blue

Sapphire Blue

Sky Blue

Marine Blue

Pacific Blue

Capri

Aruba

Forest Green

Erin Green
Turquoise

Aquamarine

Sea

True Brown

Tresco Birch

Tresco Linen
Tresco Clay

Charcoal Tweed
Linen Tweed

Toast Tweed

Hemlock Tweed

Royal Blue Tweed

Mediterranean Blue Tweed

Dubonnet Tweed
- Curtain
Notice
: Undefined offset: 5 in
/home/sourcefurniture/public_html/dev.sourcefurniture.com/system/storage/modification/catalog/view/theme/OPC021/template/product/product.tpl
on line
168Notice
: Undefined offset: 5 in
/home/sourcefurniture/public_html/dev.sourcefurniture.com/system/storage/modification/catalog/view/theme/OPC021/template/product/product.tpl
on line
168Notice
: Undefined offset: 5 in
/home/sourcefurniture/public_html/dev.sourcefurniture.com/system/storage/modification/catalog/view/theme/OPC021/template/product/product.tpl
on line
169Notice
: Undefined offset: 6 in
/home/sourcefurniture/public_html/dev.sourcefurniture.com/system/storage/modification/catalog/view/theme/OPC021/template/product/product.tpl
on line
168Notice
: Undefined offset: 6 in
/home/sourcefurniture/public_html/dev.sourcefurniture.com/system/storage/modification/catalog/view/theme/OPC021/template/product/product.tpl
on line
168Notice
: Undefined offset: 6 in
/home/sourcefurniture/public_html/dev.sourcefurniture.com/system/storage/modification/catalog/view/theme/OPC021/template/product/product.tpl
on line
169Notice
: Undefined offset: 7 in
/home/sourcefurniture/public_html/dev.sourcefurniture.com/system/storage/modification/catalog/view/theme/OPC021/template/product/product.tpl
on line
168Notice
: Undefined offset: 7 in
/home/sourcefurniture/public_html/dev.sourcefurniture.com/system/storage/modification/catalog/view/theme/OPC021/template/product/product.tpl
on line
168Notice
: Undefined offset: 7 in
/home/sourcefurniture/public_html/dev.sourcefurniture.com/system/storage/modification/catalog/view/theme/OPC021/template/product/product.tpl
on line
169Notice
: Undefined offset: 8 in
/home/sourcefurniture/public_html/dev.sourcefurniture.com/system/storage/modification/catalog/view/theme/OPC021/template/product/product.tpl
on line
168Notice
: Undefined offset: 8 in
/home/sourcefurniture/public_html/dev.sourcefurniture.com/system/storage/modification/catalog/view/theme/OPC021/template/product/product.tpl
on line
168Notice
: Undefined offset: 8 in
/home/sourcefurniture/public_html/dev.sourcefurniture.com/system/storage/modification/catalog/view/theme/OPC021/template/product/product.tpl
on line
169Notice
: Undefined offset: 9 in
/home/sourcefurniture/public_html/dev.sourcefurniture.com/system/storage/modification/catalog/view/theme/OPC021/template/product/product.tpl
on line
168Notice
: Undefined offset: 9 in
/home/sourcefurniture/public_html/dev.sourcefurniture.com/system/storage/modification/catalog/view/theme/OPC021/template/product/product.tpl
on line
168Notice
: Undefined offset: 9 in
/home/sourcefurniture/public_html/dev.sourcefurniture.com/system/storage/modification/catalog/view/theme/OPC021/template/product/product.tpl
on line
169Notice
: Undefined offset: 10 in
/home/sourcefurniture/public_html/dev.sourcefurniture.com/system/storage/modification/catalog/view/theme/OPC021/template/product/product.tpl
on line
168Notice
: Undefined offset: 10 in
/home/sourcefurniture/public_html/dev.sourcefurniture.com/system/storage/modification/catalog/view/theme/OPC021/template/product/product.tpl
on line
168Notice
: Undefined offset: 10 in
/home/sourcefurniture/public_html/dev.sourcefurniture.com/system/storage/modification/catalog/view/theme/OPC021/template/product/product.tpl
on line
169Notice
: Undefined offset: 11 in
/home/sourcefurniture/public_html/dev.sourcefurniture.com/system/storage/modification/catalog/view/theme/OPC021/template/product/product.tpl
on line
168Notice
: Undefined offset: 11 in
/home/sourcefurniture/public_html/dev.sourcefurniture.com/system/storage/modification/catalog/view/theme/OPC021/template/product/product.tpl
on line
168Notice
: Undefined offset: 11 in
/home/sourcefurniture/public_html/dev.sourcefurniture.com/system/storage/modification/catalog/view/theme/OPC021/template/product/product.tpl
on line
169Notice
: Undefined offset: 12 in
/home/sourcefurniture/public_html/dev.sourcefurniture.com/system/storage/modification/catalog/view/theme/OPC021/template/product/product.tpl
on line
168Notice
: Undefined offset: 12 in
/home/sourcefurniture/public_html/dev.sourcefurniture.com/system/storage/modification/catalog/view/theme/OPC021/template/product/product.tpl
on line
168Notice
: Undefined offset: 12 in
/home/sourcefurniture/public_html/dev.sourcefurniture.com/system/storage/modification/catalog/view/theme/OPC021/template/product/product.tpl
on line
169Notice
: Undefined offset: 13 in
/home/sourcefurniture/public_html/dev.sourcefurniture.com/system/storage/modification/catalog/view/theme/OPC021/template/product/product.tpl
on line
168Notice
: Undefined offset: 13 in
/home/sourcefurniture/public_html/dev.sourcefurniture.com/system/storage/modification/catalog/view/theme/OPC021/template/product/product.tpl
on line
168Notice
: Undefined offset: 13 in
/home/sourcefurniture/public_html/dev.sourcefurniture.com/system/storage/modification/catalog/view/theme/OPC021/template/product/product.tpl
on line
169Notice
: Undefined offset: 14 in
/home/sourcefurniture/public_html/dev.sourcefurniture.com/system/storage/modification/catalog/view/theme/OPC021/template/product/product.tpl
on line
168Notice
: Undefined offset: 14 in
/home/sourcefurniture/public_html/dev.sourcefurniture.com/system/storage/modification/catalog/view/theme/OPC021/template/product/product.tpl
on line
168Notice
: Undefined offset: 14 in
/home/sourcefurniture/public_html/dev.sourcefurniture.com/system/storage/modification/catalog/view/theme/OPC021/template/product/product.tpl
on line
169Notice
: Undefined offset: 15 in
/home/sourcefurniture/public_html/dev.sourcefurniture.com/system/storage/modification/catalog/view/theme/OPC021/template/product/product.tpl
on line
168Notice
: Undefined offset: 15 in
/home/sourcefurniture/public_html/dev.sourcefurniture.com/system/storage/modification/catalog/view/theme/OPC021/template/product/product.tpl
on line
168Notice
: Undefined offset: 15 in
/home/sourcefurniture/public_html/dev.sourcefurniture.com/system/storage/modification/catalog/view/theme/OPC021/template/product/product.tpl
on line
169Notice
: Undefined offset: 16 in
/home/sourcefurniture/public_html/dev.sourcefurniture.com/system/storage/modification/catalog/view/theme/OPC021/template/product/product.tpl
on line
168Notice
: Undefined offset: 16 in
/home/sourcefurniture/public_html/dev.sourcefurniture.com/system/storage/modification/catalog/view/theme/OPC021/template/product/product.tpl
on line
168Notice
: Undefined offset: 16 in
/home/sourcefurniture/public_html/dev.sourcefurniture.com/system/storage/modification/catalog/view/theme/OPC021/template/product/product.tpl
on line
169Notice
: Undefined offset: 17 in
/home/sourcefurniture/public_html/dev.sourcefurniture.com/system/storage/modification/catalog/view/theme/OPC021/template/product/product.tpl
on line
168Notice
: Undefined offset: 17 in
/home/sourcefurniture/public_html/dev.sourcefurniture.com/system/storage/modification/catalog/view/theme/OPC021/template/product/product.tpl
on line
168Notice
: Undefined offset: 17 in
/home/sourcefurniture/public_html/dev.sourcefurniture.com/system/storage/modification/catalog/view/theme/OPC021/template/product/product.tpl
on line
169Notice
: Undefined offset: 18 in
/home/sourcefurniture/public_html/dev.sourcefurniture.com/system/storage/modification/catalog/view/theme/OPC021/template/product/product.tpl
on line
168Notice
: Undefined offset: 18 in
/home/sourcefurniture/public_html/dev.sourcefurniture.com/system/storage/modification/catalog/view/theme/OPC021/template/product/product.tpl
on line
168Notice
: Undefined offset: 18 in
/home/sourcefurniture/public_html/dev.sourcefurniture.com/system/storage/modification/catalog/view/theme/OPC021/template/product/product.tpl
on line
169Notice
: Undefined offset: 19 in
/home/sourcefurniture/public_html/dev.sourcefurniture.com/system/storage/modification/catalog/view/theme/OPC021/template/product/product.tpl
on line
168Notice
: Undefined offset: 19 in
/home/sourcefurniture/public_html/dev.sourcefurniture.com/system/storage/modification/catalog/view/theme/OPC021/template/product/product.tpl
on line
168Notice
: Undefined offset: 19 in
/home/sourcefurniture/public_html/dev.sourcefurniture.com/system/storage/modification/catalog/view/theme/OPC021/template/product/product.tpl
on line
169Notice
: Undefined offset: 20 in
/home/sourcefurniture/public_html/dev.sourcefurniture.com/system/storage/modification/catalog/view/theme/OPC021/template/product/product.tpl
on line
168Notice
: Undefined offset: 20 in
/home/sourcefurniture/public_html/dev.sourcefurniture.com/system/storage/modification/catalog/view/theme/OPC021/template/product/product.tpl
on line
168Notice
: Undefined offset: 20 in
/home/sourcefurniture/public_html/dev.sourcefurniture.com/system/storage/modification/catalog/view/theme/OPC021/template/product/product.tpl
on line
169Notice
: Undefined offset: 21 in
/home/sourcefurniture/public_html/dev.sourcefurniture.com/system/storage/modification/catalog/view/theme/OPC021/template/product/product.tpl
on line
168Notice
: Undefined offset: 21 in
/home/sourcefurniture/public_html/dev.sourcefurniture.com/system/storage/modification/catalog/view/theme/OPC021/template/product/product.tpl
on line
168Notice
: Undefined offset: 21 in
/home/sourcefurniture/public_html/dev.sourcefurniture.com/system/storage/modification/catalog/view/theme/OPC021/template/product/product.tpl
on line
169Notice
: Undefined offset: 22 in
/home/sourcefurniture/public_html/dev.sourcefurniture.com/system/storage/modification/catalog/view/theme/OPC021/template/product/product.tpl
on line
168Notice
: Undefined offset: 22 in
/home/sourcefurniture/public_html/dev.sourcefurniture.com/system/storage/modification/catalog/view/theme/OPC021/template/product/product.tpl
on line
168Notice
: Undefined offset: 22 in
/home/sourcefurniture/public_html/dev.sourcefurniture.com/system/storage/modification/catalog/view/theme/OPC021/template/product/product.tpl
on line
169Notice
: Undefined offset: 23 in
/home/sourcefurniture/public_html/dev.sourcefurniture.com/system/storage/modification/catalog/view/theme/OPC021/template/product/product.tpl
on line
168Notice
: Undefined offset: 23 in
/home/sourcefurniture/public_html/dev.sourcefurniture.com/system/storage/modification/catalog/view/theme/OPC021/template/product/product.tpl
on line
168Notice
: Undefined offset: 23 in
/home/sourcefurniture/public_html/dev.sourcefurniture.com/system/storage/modification/catalog/view/theme/OPC021/template/product/product.tpl
on line
169Notice
: Undefined offset: 24 in
/home/sourcefurniture/public_html/dev.sourcefurniture.com/system/storage/modification/catalog/view/theme/OPC021/template/product/product.tpl
on line
168Notice
: Undefined offset: 24 in
/home/sourcefurniture/public_html/dev.sourcefurniture.com/system/storage/modification/catalog/view/theme/OPC021/template/product/product.tpl
on line
168Notice
: Undefined offset: 24 in
/home/sourcefurniture/public_html/dev.sourcefurniture.com/system/storage/modification/catalog/view/theme/OPC021/template/product/product.tpl
on line
169Notice
: Undefined offset: 25 in
/home/sourcefurniture/public_html/dev.sourcefurniture.com/system/storage/modification/catalog/view/theme/OPC021/template/product/product.tpl
on line
168Notice
: Undefined offset: 25 in
/home/sourcefurniture/public_html/dev.sourcefurniture.com/system/storage/modification/catalog/view/theme/OPC021/template/product/product.tpl
on line
168Notice
: Undefined offset: 25 in
/home/sourcefurniture/public_html/dev.sourcefurniture.com/system/storage/modification/catalog/view/theme/OPC021/template/product/product.tpl
on line
169Notice
: Undefined offset: 26 in
/home/sourcefurniture/public_html/dev.sourcefurniture.com/system/storage/modification/catalog/view/theme/OPC021/template/product/product.tpl
on line
168Notice
: Undefined offset: 26 in
/home/sourcefurniture/public_html/dev.sourcefurniture.com/system/storage/modification/catalog/view/theme/OPC021/template/product/product.tpl
on line
168Notice
: Undefined offset: 26 in
/home/sourcefurniture/public_html/dev.sourcefurniture.com/system/storage/modification/catalog/view/theme/OPC021/template/product/product.tpl
on line
169Notice
: Undefined offset: 27 in
/home/sourcefurniture/public_html/dev.sourcefurniture.com/system/storage/modification/catalog/view/theme/OPC021/template/product/product.tpl
on line
168Notice
: Undefined offset: 27 in
/home/sourcefurniture/public_html/dev.sourcefurniture.com/system/storage/modification/catalog/view/theme/OPC021/template/product/product.tpl
on line
168Notice
: Undefined offset: 27 in
/home/sourcefurniture/public_html/dev.sourcefurniture.com/system/storage/modification/catalog/view/theme/OPC021/template/product/product.tpl
on line
169Notice
: Undefined offset: 28 in
/home/sourcefurniture/public_html/dev.sourcefurniture.com/system/storage/modification/catalog/view/theme/OPC021/template/product/product.tpl
on line
168Notice
: Undefined offset: 28 in
/home/sourcefurniture/public_html/dev.sourcefurniture.com/system/storage/modification/catalog/view/theme/OPC021/template/product/product.tpl
on line
168Notice
: Undefined offset: 28 in
/home/sourcefurniture/public_html/dev.sourcefurniture.com/system/storage/modification/catalog/view/theme/OPC021/template/product/product.tpl
on line
169Notice
: Undefined offset: 29 in
/home/sourcefurniture/public_html/dev.sourcefurniture.com/system/storage/modification/catalog/view/theme/OPC021/template/product/product.tpl
on line
168Notice
: Undefined offset: 29 in
/home/sourcefurniture/public_html/dev.sourcefurniture.com/system/storage/modification/catalog/view/theme/OPC021/template/product/product.tpl
on line
168Notice
: Undefined offset: 29 in
/home/sourcefurniture/public_html/dev.sourcefurniture.com/system/storage/modification/catalog/view/theme/OPC021/template/product/product.tpl
on line
169Notice
: Undefined offset: 30 in
/home/sourcefurniture/public_html/dev.sourcefurniture.com/system/storage/modification/catalog/view/theme/OPC021/template/product/product.tpl
on line
168Notice
: Undefined offset: 30 in
/home/sourcefurniture/public_html/dev.sourcefurniture.com/system/storage/modification/catalog/view/theme/OPC021/template/product/product.tpl
on line
168Notice
: Undefined offset: 30 in
/home/sourcefurniture/public_html/dev.sourcefurniture.com/system/storage/modification/catalog/view/theme/OPC021/template/product/product.tpl
on line
169Notice
: Undefined offset: 31 in
/home/sourcefurniture/public_html/dev.sourcefurniture.com/system/storage/modification/catalog/view/theme/OPC021/template/product/product.tpl
on line
168Notice
: Undefined offset: 31 in
/home/sourcefurniture/public_html/dev.sourcefurniture.com/system/storage/modification/catalog/view/theme/OPC021/template/product/product.tpl
on line
168Notice
: Undefined offset: 31 in
/home/sourcefurniture/public_html/dev.sourcefurniture.com/system/storage/modification/catalog/view/theme/OPC021/template/product/product.tpl
on line
169Notice
: Undefined offset: 32 in
/home/sourcefurniture/public_html/dev.sourcefurniture.com/system/storage/modification/catalog/view/theme/OPC021/template/product/product.tpl
on line
168Notice
: Undefined offset: 32 in
/home/sourcefurniture/public_html/dev.sourcefurniture.com/system/storage/modification/catalog/view/theme/OPC021/template/product/product.tpl
on line
168Notice
: Undefined offset: 32 in
/home/sourcefurniture/public_html/dev.sourcefurniture.com/system/storage/modification/catalog/view/theme/OPC021/template/product/product.tpl
on line
169Notice
: Undefined offset: 33 in
/home/sourcefurniture/public_html/dev.sourcefurniture.com/system/storage/modification/catalog/view/theme/OPC021/template/product/product.tpl
on line
168Notice
: Undefined offset: 33 in
/home/sourcefurniture/public_html/dev.sourcefurniture.com/system/storage/modification/catalog/view/theme/OPC021/template/product/product.tpl
on line
168Notice
: Undefined offset: 33 in
/home/sourcefurniture/public_html/dev.sourcefurniture.com/system/storage/modification/catalog/view/theme/OPC021/template/product/product.tpl
on line
169Notice
: Undefined offset: 34 in
/home/sourcefurniture/public_html/dev.sourcefurniture.com/system/storage/modification/catalog/view/theme/OPC021/template/product/product.tpl
on line
168Notice
: Undefined offset: 34 in
/home/sourcefurniture/public_html/dev.sourcefurniture.com/system/storage/modification/catalog/view/theme/OPC021/template/product/product.tpl
on line
168Notice
: Undefined offset: 34 in
/home/sourcefurniture/public_html/dev.sourcefurniture.com/system/storage/modification/catalog/view/theme/OPC021/template/product/product.tpl
on line
169Notice
: Undefined offset: 35 in
/home/sourcefurniture/public_html/dev.sourcefurniture.com/system/storage/modification/catalog/view/theme/OPC021/template/product/product.tpl
on line
168Notice
: Undefined offset: 35 in
/home/sourcefurniture/public_html/dev.sourcefurniture.com/system/storage/modification/catalog/view/theme/OPC021/template/product/product.tpl
on line
168Notice
: Undefined offset: 35 in
/home/sourcefurniture/public_html/dev.sourcefurniture.com/system/storage/modification/catalog/view/theme/OPC021/template/product/product.tpl
on line
169Notice
: Undefined offset: 36 in
/home/sourcefurniture/public_html/dev.sourcefurniture.com/system/storage/modification/catalog/view/theme/OPC021/template/product/product.tpl
on line
168Notice
: Undefined offset: 36 in
/home/sourcefurniture/public_html/dev.sourcefurniture.com/system/storage/modification/catalog/view/theme/OPC021/template/product/product.tpl
on line
168Notice
: Undefined offset: 36 in
/home/sourcefurniture/public_html/dev.sourcefurniture.com/system/storage/modification/catalog/view/theme/OPC021/template/product/product.tpl
on line
169Notice
: Undefined offset: 37 in
/home/sourcefurniture/public_html/dev.sourcefurniture.com/system/storage/modification/catalog/view/theme/OPC021/template/product/product.tpl
on line
168Notice
: Undefined offset: 37 in
/home/sourcefurniture/public_html/dev.sourcefurniture.com/system/storage/modification/catalog/view/theme/OPC021/template/product/product.tpl
on line
168Notice
: Undefined offset: 37 in
/home/sourcefurniture/public_html/dev.sourcefurniture.com/system/storage/modification/catalog/view/theme/OPC021/template/product/product.tpl
on line
169Notice
: Undefined offset: 38 in
/home/sourcefurniture/public_html/dev.sourcefurniture.com/system/storage/modification/catalog/view/theme/OPC021/template/product/product.tpl
on line
168Notice
: Undefined offset: 38 in
/home/sourcefurniture/public_html/dev.sourcefurniture.com/system/storage/modification/catalog/view/theme/OPC021/template/product/product.tpl
on line
168Notice
: Undefined offset: 38 in
/home/sourcefurniture/public_html/dev.sourcefurniture.com/system/storage/modification/catalog/view/theme/OPC021/template/product/product.tpl
on line
169Notice
: Undefined offset: 39 in
/home/sourcefurniture/public_html/dev.sourcefurniture.com/system/storage/modification/catalog/view/theme/OPC021/template/product/product.tpl
on line
168Notice
: Undefined offset: 39 in
/home/sourcefurniture/public_html/dev.sourcefurniture.com/system/storage/modification/catalog/view/theme/OPC021/template/product/product.tpl
on line
168Notice
: Undefined offset: 39 in
/home/sourcefurniture/public_html/dev.sourcefurniture.com/system/storage/modification/catalog/view/theme/OPC021/template/product/product.tpl
on line
169Notice
: Undefined offset: 40 in
/home/sourcefurniture/public_html/dev.sourcefurniture.com/system/storage/modification/catalog/view/theme/OPC021/template/product/product.tpl
on line
168Notice
: Undefined offset: 40 in
/home/sourcefurniture/public_html/dev.sourcefurniture.com/system/storage/modification/catalog/view/theme/OPC021/template/product/product.tpl
on line
168Notice
: Undefined offset: 40 in
/home/sourcefurniture/public_html/dev.sourcefurniture.com/system/storage/modification/catalog/view/theme/OPC021/template/product/product.tpl
on line
169Notice
: Undefined offset: 41 in
/home/sourcefurniture/public_html/dev.sourcefurniture.com/system/storage/modification/catalog/view/theme/OPC021/template/product/product.tpl
on line
168Notice
: Undefined offset: 41 in
/home/sourcefurniture/public_html/dev.sourcefurniture.com/system/storage/modification/catalog/view/theme/OPC021/template/product/product.tpl
on line
168Notice
: Undefined offset: 41 in
/home/sourcefurniture/public_html/dev.sourcefurniture.com/system/storage/modification/catalog/view/theme/OPC021/template/product/product.tpl
on line
169Notice
: Undefined offset: 42 in
/home/sourcefurniture/public_html/dev.sourcefurniture.com/system/storage/modification/catalog/view/theme/OPC021/template/product/product.tpl
on line
168Notice
: Undefined offset: 42 in
/home/sourcefurniture/public_html/dev.sourcefurniture.com/system/storage/modification/catalog/view/theme/OPC021/template/product/product.tpl
on line
168Notice
: Undefined offset: 42 in
/home/sourcefurniture/public_html/dev.sourcefurniture.com/system/storage/modification/catalog/view/theme/OPC021/template/product/product.tpl
on line
169Notice
: Undefined offset: 43 in
/home/sourcefurniture/public_html/dev.sourcefurniture.com/system/storage/modification/catalog/view/theme/OPC021/template/product/product.tpl
on line
168Notice
: Undefined offset: 43 in
/home/sourcefurniture/public_html/dev.sourcefurniture.com/system/storage/modification/catalog/view/theme/OPC021/template/product/product.tpl
on line
168Notice
: Undefined offset: 43 in
/home/sourcefurniture/public_html/dev.sourcefurniture.com/system/storage/modification/catalog/view/theme/OPC021/template/product/product.tpl
on line
169Notice
: Undefined offset: 44 in
/home/sourcefurniture/public_html/dev.sourcefurniture.com/system/storage/modification/catalog/view/theme/OPC021/template/product/product.tpl
on line
168Notice
: Undefined offset: 44 in
/home/sourcefurniture/public_html/dev.sourcefurniture.com/system/storage/modification/catalog/view/theme/OPC021/template/product/product.tpl
on line
168Notice
: Undefined offset: 44 in
/home/sourcefurniture/public_html/dev.sourcefurniture.com/system/storage/modification/catalog/view/theme/OPC021/template/product/product.tpl
on line
169Notice
: Undefined offset: 45 in
/home/sourcefurniture/public_html/dev.sourcefurniture.com/system/storage/modification/catalog/view/theme/OPC021/template/product/product.tpl
on line
168Notice
: Undefined offset: 45 in
/home/sourcefurniture/public_html/dev.sourcefurniture.com/system/storage/modification/catalog/view/theme/OPC021/template/product/product.tpl
on line
168Notice
: Undefined offset: 45 in
/home/sourcefurniture/public_html/dev.sourcefurniture.com/system/storage/modification/catalog/view/theme/OPC021/template/product/product.tpl
on line
169Notice
: Undefined offset: 46 in
/home/sourcefurniture/public_html/dev.sourcefurniture.com/system/storage/modification/catalog/view/theme/OPC021/template/product/product.tpl
on line
168Notice
: Undefined offset: 46 in
/home/sourcefurniture/public_html/dev.sourcefurniture.com/system/storage/modification/catalog/view/theme/OPC021/template/product/product.tpl
on line
168Notice
: Undefined offset: 46 in
/home/sourcefurniture/public_html/dev.sourcefurniture.com/system/storage/modification/catalog/view/theme/OPC021/template/product/product.tpl
on line
169Notice
: Undefined offset: 47 in
/home/sourcefurniture/public_html/dev.sourcefurniture.com/system/storage/modification/catalog/view/theme/OPC021/template/product/product.tpl
on line
168Notice
: Undefined offset: 47 in
/home/sourcefurniture/public_html/dev.sourcefurniture.com/system/storage/modification/catalog/view/theme/OPC021/template/product/product.tpl
on line
168Notice
: Undefined offset: 47 in
/home/sourcefurniture/public_html/dev.sourcefurniture.com/system/storage/modification/catalog/view/theme/OPC021/template/product/product.tpl
on line
169Notice
: Undefined offset: 48 in
/home/sourcefurniture/public_html/dev.sourcefurniture.com/system/storage/modification/catalog/view/theme/OPC021/template/product/product.tpl
on line
168Notice
: Undefined offset: 48 in
/home/sourcefurniture/public_html/dev.sourcefurniture.com/system/storage/modification/catalog/view/theme/OPC021/template/product/product.tpl
on line
168Notice
: Undefined offset: 48 in
/home/sourcefurniture/public_html/dev.sourcefurniture.com/system/storage/modification/catalog/view/theme/OPC021/template/product/product.tpl
on line
169Notice
: Undefined offset: 49 in
/home/sourcefurniture/public_html/dev.sourcefurniture.com/system/storage/modification/catalog/view/theme/OPC021/template/product/product.tpl
on line
168Notice
: Undefined offset: 49 in
/home/sourcefurniture/public_html/dev.sourcefurniture.com/system/storage/modification/catalog/view/theme/OPC021/template/product/product.tpl
on line
168Notice
: Undefined offset: 49 in
/home/sourcefurniture/public_html/dev.sourcefurniture.com/system/storage/modification/catalog/view/theme/OPC021/template/product/product.tpl
on line
169Notice
: Undefined offset: 50 in
/home/sourcefurniture/public_html/dev.sourcefurniture.com/system/storage/modification/catalog/view/theme/OPC021/template/product/product.tpl
on line
168Notice
: Undefined offset: 50 in
/home/sourcefurniture/public_html/dev.sourcefurniture.com/system/storage/modification/catalog/view/theme/OPC021/template/product/product.tpl
on line
168Notice
: Undefined offset: 50 in
/home/sourcefurniture/public_html/dev.sourcefurniture.com/system/storage/modification/catalog/view/theme/OPC021/template/product/product.tpl
on line
169Notice
: Undefined offset: 51 in
/home/sourcefurniture/public_html/dev.sourcefurniture.com/system/storage/modification/catalog/view/theme/OPC021/template/product/product.tpl
on line
168Notice
: Undefined offset: 51 in
/home/sourcefurniture/public_html/dev.sourcefurniture.com/system/storage/modification/catalog/view/theme/OPC021/template/product/product.tpl
on line
168Notice
: Undefined offset: 51 in
/home/sourcefurniture/public_html/dev.sourcefurniture.com/system/storage/modification/catalog/view/theme/OPC021/template/product/product.tpl
on line
169Notice
: Undefined offset: 52 in
/home/sourcefurniture/public_html/dev.sourcefurniture.com/system/storage/modification/catalog/view/theme/OPC021/template/product/product.tpl
on line
168Notice
: Undefined offset: 52 in
/home/sourcefurniture/public_html/dev.sourcefurniture.com/system/storage/modification/catalog/view/theme/OPC021/template/product/product.tpl
on line
168Notice
: Undefined offset: 52 in
/home/sourcefurniture/public_html/dev.sourcefurniture.com/system/storage/modification/catalog/view/theme/OPC021/template/product/product.tpl
on line
169Notice
: Undefined offset: 53 in
/home/sourcefurniture/public_html/dev.sourcefurniture.com/system/storage/modification/catalog/view/theme/OPC021/template/product/product.tpl
on line
168Notice
: Undefined offset: 53 in
/home/sourcefurniture/public_html/dev.sourcefurniture.com/system/storage/modification/catalog/view/theme/OPC021/template/product/product.tpl
on line
168Notice
: Undefined offset: 53 in
/home/sourcefurniture/public_html/dev.sourcefurniture.com/system/storage/modification/catalog/view/theme/OPC021/template/product/product.tpl
on line
169Notice
: Undefined offset: 54 in
/home/sourcefurniture/public_html/dev.sourcefurniture.com/system/storage/modification/catalog/view/theme/OPC021/template/product/product.tpl
on line
168Notice
: Undefined offset: 54 in
/home/sourcefurniture/public_html/dev.sourcefurniture.com/system/storage/modification/catalog/view/theme/OPC021/template/product/product.tpl
on line
168Notice
: Undefined offset: 54 in
/home/sourcefurniture/public_html/dev.sourcefurniture.com/system/storage/modification/catalog/view/theme/OPC021/template/product/product.tpl
on line
169Notice
: Undefined offset: 55 in
/home/sourcefurniture/public_html/dev.sourcefurniture.com/system/storage/modification/catalog/view/theme/OPC021/template/product/product.tpl
on line
168Notice
: Undefined offset: 55 in
/home/sourcefurniture/public_html/dev.sourcefurniture.com/system/storage/modification/catalog/view/theme/OPC021/template/product/product.tpl
on line
168Notice
: Undefined offset: 55 in
/home/sourcefurniture/public_html/dev.sourcefurniture.com/system/storage/modification/catalog/view/theme/OPC021/template/product/product.tpl
on line
169Notice
: Undefined offset: 56 in
/home/sourcefurniture/public_html/dev.sourcefurniture.com/system/storage/modification/catalog/view/theme/OPC021/template/product/product.tpl
on line
168Notice
: Undefined offset: 56 in
/home/sourcefurniture/public_html/dev.sourcefurniture.com/system/storage/modification/catalog/view/theme/OPC021/template/product/product.tpl
on line
168Notice
: Undefined offset: 56 in
/home/sourcefurniture/public_html/dev.sourcefurniture.com/system/storage/modification/catalog/view/theme/OPC021/template/product/product.tpl
on line
169Notice
: Undefined offset: 57 in
/home/sourcefurniture/public_html/dev.sourcefurniture.com/system/storage/modification/catalog/view/theme/OPC021/template/product/product.tpl
on line
168Notice
: Undefined offset: 57 in
/home/sourcefurniture/public_html/dev.sourcefurniture.com/system/storage/modification/catalog/view/theme/OPC021/template/product/product.tpl
on line
168Notice
: Undefined offset: 57 in
/home/sourcefurniture/public_html/dev.sourcefurniture.com/system/storage/modification/catalog/view/theme/OPC021/template/product/product.tpl
on line
169Notice
: Undefined offset: 58 in
/home/sourcefurniture/public_html/dev.sourcefurniture.com/system/storage/modification/catalog/view/theme/OPC021/template/product/product.tpl
on line
168Notice
: Undefined offset: 58 in
/home/sourcefurniture/public_html/dev.sourcefurniture.com/system/storage/modification/catalog/view/theme/OPC021/template/product/product.tpl
on line
168Notice
: Undefined offset: 58 in
/home/sourcefurniture/public_html/dev.sourcefurniture.com/system/storage/modification/catalog/view/theme/OPC021/template/product/product.tpl
on line
169Notice
: Undefined offset: 59 in
/home/sourcefurniture/public_html/dev.sourcefurniture.com/system/storage/modification/catalog/view/theme/OPC021/template/product/product.tpl
on line
168Notice
: Undefined offset: 59 in
/home/sourcefurniture/public_html/dev.sourcefurniture.com/system/storage/modification/catalog/view/theme/OPC021/template/product/product.tpl
on line
168Notice
: Undefined offset: 59 in
/home/sourcefurniture/public_html/dev.sourcefurniture.com/system/storage/modification/catalog/view/theme/OPC021/template/product/product.tpl
on line
169Notice
: Undefined offset: 60 in
/home/sourcefurniture/public_html/dev.sourcefurniture.com/system/storage/modification/catalog/view/theme/OPC021/template/product/product.tpl
on line
168Notice
: Undefined offset: 60 in
/home/sourcefurniture/public_html/dev.sourcefurniture.com/system/storage/modification/catalog/view/theme/OPC021/template/product/product.tpl
on line
168Notice
: Undefined offset: 60 in
/home/sourcefurniture/public_html/dev.sourcefurniture.com/system/storage/modification/catalog/view/theme/OPC021/template/product/product.tpl
on line
169Notice
: Undefined offset: 61 in
/home/sourcefurniture/public_html/dev.sourcefurniture.com/system/storage/modification/catalog/view/theme/OPC021/template/product/product.tpl
on line
168Notice
: Undefined offset: 61 in
/home/sourcefurniture/public_html/dev.sourcefurniture.com/system/storage/modification/catalog/view/theme/OPC021/template/product/product.tpl
on line
168Notice
: Undefined offset: 61 in
/home/sourcefurniture/public_html/dev.sourcefurniture.com/system/storage/modification/catalog/view/theme/OPC021/template/product/product.tpl
on line
169Notice
: Undefined offset: 62 in
/home/sourcefurniture/public_html/dev.sourcefurniture.com/system/storage/modification/catalog/view/theme/OPC021/template/product/product.tpl
on line
168Notice
: Undefined offset: 62 in
/home/sourcefurniture/public_html/dev.sourcefurniture.com/system/storage/modification/catalog/view/theme/OPC021/template/product/product.tpl
on line
168Notice
: Undefined offset: 62 in
/home/sourcefurniture/public_html/dev.sourcefurniture.com/system/storage/modification/catalog/view/theme/OPC021/template/product/product.tpl
on line
169Notice
: Undefined offset: 63 in
/home/sourcefurniture/public_html/dev.sourcefurniture.com/system/storage/modification/catalog/view/theme/OPC021/template/product/product.tpl
on line
168Notice
: Undefined offset: 63 in
/home/sourcefurniture/public_html/dev.sourcefurniture.com/system/storage/modification/catalog/view/theme/OPC021/template/product/product.tpl
on line
168Notice
: Undefined offset: 63 in
/home/sourcefurniture/public_html/dev.sourcefurniture.com/system/storage/modification/catalog/view/theme/OPC021/template/product/product.tpl
on line
169Notice
: Undefined offset: 64 in
/home/sourcefurniture/public_html/dev.sourcefurniture.com/system/storage/modification/catalog/view/theme/OPC021/template/product/product.tpl
on line
168Notice
: Undefined offset: 64 in
/home/sourcefurniture/public_html/dev.sourcefurniture.com/system/storage/modification/catalog/view/theme/OPC021/template/product/product.tpl
on line
168Notice
: Undefined offset: 64 in
/home/sourcefurniture/public_html/dev.sourcefurniture.com/system/storage/modification/catalog/view/theme/OPC021/template/product/product.tpl
on line
169Notice
: Undefined offset: 65 in
/home/sourcefurniture/public_html/dev.sourcefurniture.com/system/storage/modification/catalog/view/theme/OPC021/template/product/product.tpl
on line
168Notice
: Undefined offset: 65 in
/home/sourcefurniture/public_html/dev.sourcefurniture.com/system/storage/modification/catalog/view/theme/OPC021/template/product/product.tpl
on line
168Notice
: Undefined offset: 65 in
/home/sourcefurniture/public_html/dev.sourcefurniture.com/system/storage/modification/catalog/view/theme/OPC021/template/product/product.tpl
on line
169Notice
: Undefined offset: 66 in
/home/sourcefurniture/public_html/dev.sourcefurniture.com/system/storage/modification/catalog/view/theme/OPC021/template/product/product.tpl
on line
168Notice
: Undefined offset: 66 in
/home/sourcefurniture/public_html/dev.sourcefurniture.com/system/storage/modification/catalog/view/theme/OPC021/template/product/product.tpl
on line
168Notice
: Undefined offset: 66 in
/home/sourcefurniture/public_html/dev.sourcefurniture.com/system/storage/modification/catalog/view/theme/OPC021/template/product/product.tpl
on line
169Notice
: Undefined offset: 67 in
/home/sourcefurniture/public_html/dev.sourcefurniture.com/system/storage/modification/catalog/view/theme/OPC021/template/product/product.tpl
on line
168Notice
: Undefined offset: 67 in
/home/sourcefurniture/public_html/dev.sourcefurniture.com/system/storage/modification/catalog/view/theme/OPC021/template/product/product.tpl
on line
168Notice
: Undefined offset: 67 in
/home/sourcefurniture/public_html/dev.sourcefurniture.com/system/storage/modification/catalog/view/theme/OPC021/template/product/product.tpl
on line
169Notice
: Undefined offset: 68 in
/home/sourcefurniture/public_html/dev.sourcefurniture.com/system/storage/modification/catalog/view/theme/OPC021/template/product/product.tpl
on line
168Notice
: Undefined offset: 68 in
/home/sourcefurniture/public_html/dev.sourcefurniture.com/system/storage/modification/catalog/view/theme/OPC021/template/product/product.tpl
on line
168Notice
: Undefined offset: 68 in
/home/sourcefurniture/public_html/dev.sourcefurniture.com/system/storage/modification/catalog/view/theme/OPC021/template/product/product.tpl
on line
169Notice
: Undefined offset: 69 in
/home/sourcefurniture/public_html/dev.sourcefurniture.com/system/storage/modification/catalog/view/theme/OPC021/template/product/product.tpl
on line
168Notice
: Undefined offset: 69 in
/home/sourcefurniture/public_html/dev.sourcefurniture.com/system/storage/modification/catalog/view/theme/OPC021/template/product/product.tpl
on line
168Notice
: Undefined offset: 69 in
/home/sourcefurniture/public_html/dev.sourcefurniture.com/system/storage/modification/catalog/view/theme/OPC021/template/product/product.tpl
on line
169Notice
: Undefined offset: 70 in
/home/sourcefurniture/public_html/dev.sourcefurniture.com/system/storage/modification/catalog/view/theme/OPC021/template/product/product.tpl
on line
168Notice
: Undefined offset: 70 in
/home/sourcefurniture/public_html/dev.sourcefurniture.com/system/storage/modification/catalog/view/theme/OPC021/template/product/product.tpl
on line
168Notice
: Undefined offset: 70 in
/home/sourcefurniture/public_html/dev.sourcefurniture.com/system/storage/modification/catalog/view/theme/OPC021/template/product/product.tpl
on line
169Notice
: Undefined offset: 71 in
/home/sourcefurniture/public_html/dev.sourcefurniture.com/system/storage/modification/catalog/view/theme/OPC021/template/product/product.tpl
on line
168Notice
: Undefined offset: 71 in
/home/sourcefurniture/public_html/dev.sourcefurniture.com/system/storage/modification/catalog/view/theme/OPC021/template/product/product.tpl
on line
168Notice
: Undefined offset: 71 in
/home/sourcefurniture/public_html/dev.sourcefurniture.com/system/storage/modification/catalog/view/theme/OPC021/template/product/product.tpl
on line
169Notice
: Undefined offset: 72 in
/home/sourcefurniture/public_html/dev.sourcefurniture.com/system/storage/modification/catalog/view/theme/OPC021/template/product/product.tpl
on line
168Notice
: Undefined offset: 72 in
/home/sourcefurniture/public_html/dev.sourcefurniture.com/system/storage/modification/catalog/view/theme/OPC021/template/product/product.tpl
on line
168Notice
: Undefined offset: 72 in
/home/sourcefurniture/public_html/dev.sourcefurniture.com/system/storage/modification/catalog/view/theme/OPC021/template/product/product.tpl
on line
169Notice
: Undefined offset: 73 in
/home/sourcefurniture/public_html/dev.sourcefurniture.com/system/storage/modification/catalog/view/theme/OPC021/template/product/product.tpl
on line
168Notice
: Undefined offset: 73 in
/home/sourcefurniture/public_html/dev.sourcefurniture.com/system/storage/modification/catalog/view/theme/OPC021/template/product/product.tpl
on line
168Notice
: Undefined offset: 73 in
/home/sourcefurniture/public_html/dev.sourcefurniture.com/system/storage/modification/catalog/view/theme/OPC021/template/product/product.tpl
on line
169Notice
: Undefined offset: 74 in
/home/sourcefurniture/public_html/dev.sourcefurniture.com/system/storage/modification/catalog/view/theme/OPC021/template/product/product.tpl
on line
168Notice
: Undefined offset: 74 in
/home/sourcefurniture/public_html/dev.sourcefurniture.com/system/storage/modification/catalog/view/theme/OPC021/template/product/product.tpl
on line
168Notice
: Undefined offset: 74 in
/home/sourcefurniture/public_html/dev.sourcefurniture.com/system/storage/modification/catalog/view/theme/OPC021/template/product/product.tpl
on line
169Notice
: Undefined offset: 75 in
/home/sourcefurniture/public_html/dev.sourcefurniture.com/system/storage/modification/catalog/view/theme/OPC021/template/product/product.tpl
on line
168Notice
: Undefined offset: 75 in
/home/sourcefurniture/public_html/dev.sourcefurniture.com/system/storage/modification/catalog/view/theme/OPC021/template/product/product.tpl
on line
168Notice
: Undefined offset: 75 in
/home/sourcefurniture/public_html/dev.sourcefurniture.com/system/storage/modification/catalog/view/theme/OPC021/template/product/product.tpl
on line
169Notice
: Undefined offset: 76 in
/home/sourcefurniture/public_html/dev.sourcefurniture.com/system/storage/modification/catalog/view/theme/OPC021/template/product/product.tpl
on line
168Notice
: Undefined offset: 76 in
/home/sourcefurniture/public_html/dev.sourcefurniture.com/system/storage/modification/catalog/view/theme/OPC021/template/product/product.tpl
on line
168Notice
: Undefined offset: 76 in
/home/sourcefurniture/public_html/dev.sourcefurniture.com/system/storage/modification/catalog/view/theme/OPC021/template/product/product.tpl
on line
169Notice
: Undefined offset: 77 in
/home/sourcefurniture/public_html/dev.sourcefurniture.com/system/storage/modification/catalog/view/theme/OPC021/template/product/product.tpl
on line
168Notice
: Undefined offset: 77 in
/home/sourcefurniture/public_html/dev.sourcefurniture.com/system/storage/modification/catalog/view/theme/OPC021/template/product/product.tpl
on line
168Notice
: Undefined offset: 77 in
/home/sourcefurniture/public_html/dev.sourcefurniture.com/system/storage/modification/catalog/view/theme/OPC021/template/product/product.tpl
on line
169Notice
: Undefined offset: 78 in
/home/sourcefurniture/public_html/dev.sourcefurniture.com/system/storage/modification/catalog/view/theme/OPC021/template/product/product.tpl
on line
168Notice
: Undefined offset: 78 in
/home/sourcefurniture/public_html/dev.sourcefurniture.com/system/storage/modification/catalog/view/theme/OPC021/template/product/product.tpl
on line
168Notice
: Undefined offset: 78 in
/home/sourcefurniture/public_html/dev.sourcefurniture.com/system/storage/modification/catalog/view/theme/OPC021/template/product/product.tpl
on line
169Notice
: Undefined offset: 79 in
/home/sourcefurniture/public_html/dev.sourcefurniture.com/system/storage/modification/catalog/view/theme/OPC021/template/product/product.tpl
on line
168Notice
: Undefined offset: 79 in
/home/sourcefurniture/public_html/dev.sourcefurniture.com/system/storage/modification/catalog/view/theme/OPC021/template/product/product.tpl
on line
168Notice
: Undefined offset: 79 in
/home/sourcefurniture/public_html/dev.sourcefurniture.com/system/storage/modification/catalog/view/theme/OPC021/template/product/product.tpl
on line
169Notice
: Undefined offset: 80 in
/home/sourcefurniture/public_html/dev.sourcefurniture.com/system/storage/modification/catalog/view/theme/OPC021/template/product/product.tpl
on line
168Notice
: Undefined offset: 80 in
/home/sourcefurniture/public_html/dev.sourcefurniture.com/system/storage/modification/catalog/view/theme/OPC021/template/product/product.tpl
on line
168Notice
: Undefined offset: 80 in
/home/sourcefurniture/public_html/dev.sourcefurniture.com/system/storage/modification/catalog/view/theme/OPC021/template/product/product.tpl
on line
169Notice
: Undefined offset: 81 in
/home/sourcefurniture/public_html/dev.sourcefurniture.com/system/storage/modification/catalog/view/theme/OPC021/template/product/product.tpl
on line
168Notice
: Undefined offset: 81 in
/home/sourcefurniture/public_html/dev.sourcefurniture.com/system/storage/modification/catalog/view/theme/OPC021/template/product/product.tpl
on line
168Notice
: Undefined offset: 81 in
/home/sourcefurniture/public_html/dev.sourcefurniture.com/system/storage/modification/catalog/view/theme/OPC021/template/product/product.tpl
on line
169Notice
: Undefined offset: 82 in
/home/sourcefurniture/public_html/dev.sourcefurniture.com/system/storage/modification/catalog/view/theme/OPC021/template/product/product.tpl
on line
168Notice
: Undefined offset: 82 in
/home/sourcefurniture/public_html/dev.sourcefurniture.com/system/storage/modification/catalog/view/theme/OPC021/template/product/product.tpl
on line
168Notice
: Undefined offset: 82 in
/home/sourcefurniture/public_html/dev.sourcefurniture.com/system/storage/modification/catalog/view/theme/OPC021/template/product/product.tpl
on line
169Notice
: Undefined offset: 83 in
/home/sourcefurniture/public_html/dev.sourcefurniture.com/system/storage/modification/catalog/view/theme/OPC021/template/product/product.tpl
on line
168Notice
: Undefined offset: 83 in
/home/sourcefurniture/public_html/dev.sourcefurniture.com/system/storage/modification/catalog/view/theme/OPC021/template/product/product.tpl
on line
168Notice
: Undefined offset: 83 in
/home/sourcefurniture/public_html/dev.sourcefurniture.com/system/storage/modification/catalog/view/theme/OPC021/template/product/product.tpl
on line
169Notice
: Undefined offset: 84 in
/home/sourcefurniture/public_html/dev.sourcefurniture.com/system/storage/modification/catalog/view/theme/OPC021/template/product/product.tpl
on line
168Notice
: Undefined offset: 84 in
/home/sourcefurniture/public_html/dev.sourcefurniture.com/system/storage/modification/catalog/view/theme/OPC021/template/product/product.tpl
on line
168Notice
: Undefined offset: 84 in
/home/sourcefurniture/public_html/dev.sourcefurniture.com/system/storage/modification/catalog/view/theme/OPC021/template/product/product.tpl
on line
169Notice
: Undefined offset: 85 in
/home/sourcefurniture/public_html/dev.sourcefurniture.com/system/storage/modification/catalog/view/theme/OPC021/template/product/product.tpl
on line
168Notice
: Undefined offset: 85 in
/home/sourcefurniture/public_html/dev.sourcefurniture.com/system/storage/modification/catalog/view/theme/OPC021/template/product/product.tpl
on line
168Notice
: Undefined offset: 85 in
/home/sourcefurniture/public_html/dev.sourcefurniture.com/system/storage/modification/catalog/view/theme/OPC021/template/product/product.tpl
on line
169Notice
: Undefined offset: 86 in
/home/sourcefurniture/public_html/dev.sourcefurniture.com/system/storage/modification/catalog/view/theme/OPC021/template/product/product.tpl
on line
168Notice
: Undefined offset: 86 in
/home/sourcefurniture/public_html/dev.sourcefurniture.com/system/storage/modification/catalog/view/theme/OPC021/template/product/product.tpl
on line
168Notice
: Undefined offset: 86 in
/home/sourcefurniture/public_html/dev.sourcefurniture.com/system/storage/modification/catalog/view/theme/OPC021/template/product/product.tpl
on line
169Notice
: Undefined offset: 87 in
/home/sourcefurniture/public_html/dev.sourcefurniture.com/system/storage/modification/catalog/view/theme/OPC021/template/product/product.tpl
on line
168Notice
: Undefined offset: 87 in
/home/sourcefurniture/public_html/dev.sourcefurniture.com/system/storage/modification/catalog/view/theme/OPC021/template/product/product.tpl
on line
168Notice
: Undefined offset: 87 in
/home/sourcefurniture/public_html/dev.sourcefurniture.com/system/storage/modification/catalog/view/theme/OPC021/template/product/product.tpl
on line
169Notice
: Undefined offset: 88 in
/home/sourcefurniture/public_html/dev.sourcefurniture.com/system/storage/modification/catalog/view/theme/OPC021/template/product/product.tpl
on line
168Notice
: Undefined offset: 88 in
/home/sourcefurniture/public_html/dev.sourcefurniture.com/system/storage/modification/catalog/view/theme/OPC021/template/product/product.tpl
on line
168Notice
: Undefined offset: 88 in
/home/sourcefurniture/public_html/dev.sourcefurniture.com/system/storage/modification/catalog/view/theme/OPC021/template/product/product.tpl
on line
169Notice
: Undefined offset: 89 in
/home/sourcefurniture/public_html/dev.sourcefurniture.com/system/storage/modification/catalog/view/theme/OPC021/template/product/product.tpl
on line
168Notice
: Undefined offset: 89 in
/home/sourcefurniture/public_html/dev.sourcefurniture.com/system/storage/modification/catalog/view/theme/OPC021/template/product/product.tpl
on line
168Notice
: Undefined offset: 89 in
/home/sourcefurniture/public_html/dev.sourcefurniture.com/system/storage/modification/catalog/view/theme/OPC021/template/product/product.tpl
on line
169Notice
: Undefined offset: 90 in
/home/sourcefurniture/public_html/dev.sourcefurniture.com/system/storage/modification/catalog/view/theme/OPC021/template/product/product.tpl
on line
168Notice
: Undefined offset: 90 in
/home/sourcefurniture/public_html/dev.sourcefurniture.com/system/storage/modification/catalog/view/theme/OPC021/template/product/product.tpl
on line
168Notice
: Undefined offset: 90 in
/home/sourcefurniture/public_html/dev.sourcefurniture.com/system/storage/modification/catalog/view/theme/OPC021/template/product/product.tpl
on line
169Notice
: Undefined offset: 91 in
/home/sourcefurniture/public_html/dev.sourcefurniture.com/system/storage/modification/catalog/view/theme/OPC021/template/product/product.tpl
on line
168Notice
: Undefined offset: 91 in
/home/sourcefurniture/public_html/dev.sourcefurniture.com/system/storage/modification/catalog/view/theme/OPC021/template/product/product.tpl
on line
168Notice
: Undefined offset: 91 in
/home/sourcefurniture/public_html/dev.sourcefurniture.com/system/storage/modification/catalog/view/theme/OPC021/template/product/product.tpl
on line
169Notice
: Undefined offset: 92 in
/home/sourcefurniture/public_html/dev.sourcefurniture.com/system/storage/modification/catalog/view/theme/OPC021/template/product/product.tpl
on line
168Notice
: Undefined offset: 92 in
/home/sourcefurniture/public_html/dev.sourcefurniture.com/system/storage/modification/catalog/view/theme/OPC021/template/product/product.tpl
on line
168Notice
: Undefined offset: 92 in
/home/sourcefurniture/public_html/dev.sourcefurniture.com/system/storage/modification/catalog/view/theme/OPC021/template/product/product.tpl
on line
169Notice
: Undefined offset: 93 in
/home/sourcefurniture/public_html/dev.sourcefurniture.com/system/storage/modification/catalog/view/theme/OPC021/template/product/product.tpl
on line
168Notice
: Undefined offset: 93 in
/home/sourcefurniture/public_html/dev.sourcefurniture.com/system/storage/modification/catalog/view/theme/OPC021/template/product/product.tpl
on line
168Notice
: Undefined offset: 93 in
/home/sourcefurniture/public_html/dev.sourcefurniture.com/system/storage/modification/catalog/view/theme/OPC021/template/product/product.tpl
on line
169
Sunbrella Awning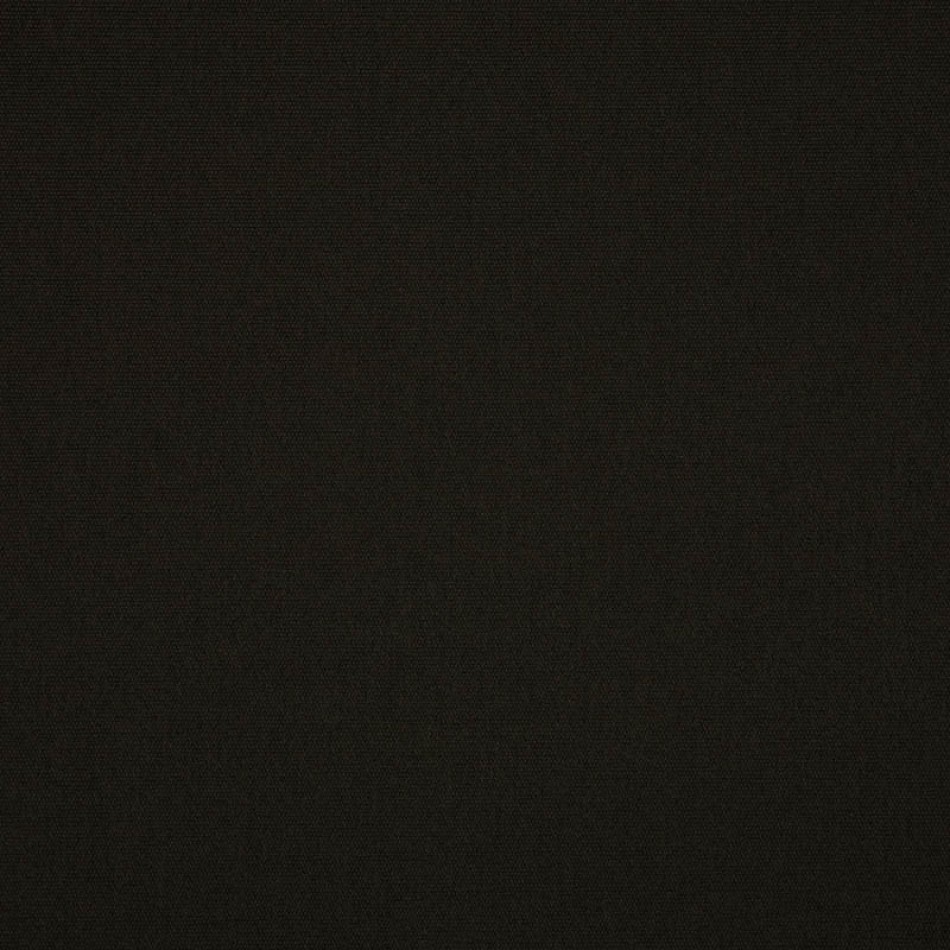 Black

Natural

Crest Birch

Smoke

Crest Ash
Oyster

Taupe

Cocoa

Heather Beige

Linen

Parchment

Terracotta

Jockey Red

Logo Red
Rust

Tuscan

Ocean Blue

Mediterranean Blue

Sapphire Blue

Sky Blue

Marine Blue

Pacific Blue

Capri

Aruba

Forest Green

Erin Green
Turquoise

Aquamarine

Sea

True Brown

Tresco Birch

Tresco Linen
Tresco Clay

Charcoal Tweed
Linen Tweed

Toast Tweed

Hemlock Tweed

Royal Blue Tweed

Mediterranean Blue Tweed

Dubonnet Tweed
• Powder Coated Aluminum Frame. All Powder Coating options available. Additional lead times and fees may apply.
• Awning Grade Fabric Canopy. •
Upholstery or Awning Grade Fabric Curtains / Panels.
• Assembly Required.
• Signed & sealed drawings provided by request at an additional charge.
Dimensions
SF-3801-656-10

Width: 118'' |Depth: 118'' |Height: 125'' |Weight: 147 lbs.

SF-3801-656-15

Width: 180'' |Depth: 180'' |Height: 125''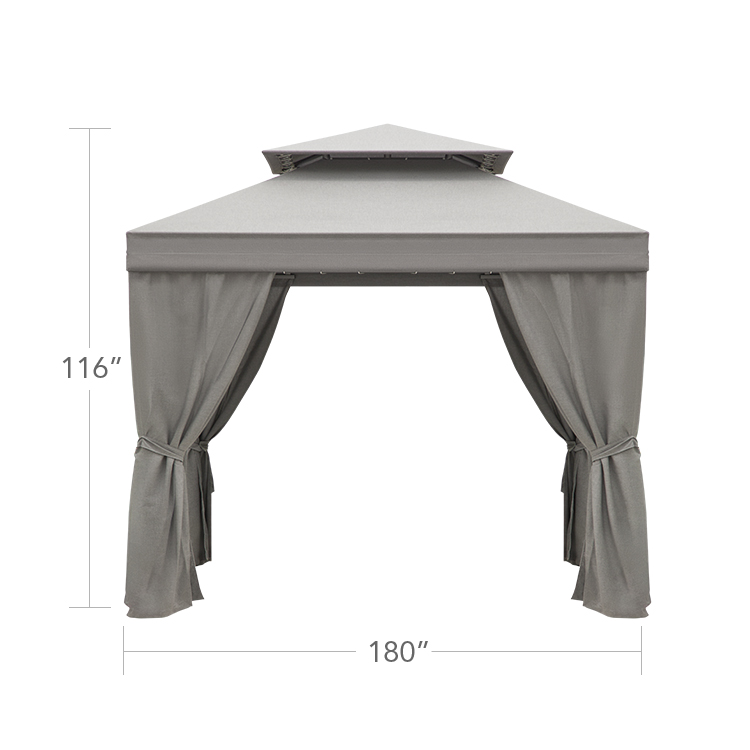 NOTE: Dimensions may vary by up to an inch. Weights are an estimate and for reference only.
Related Products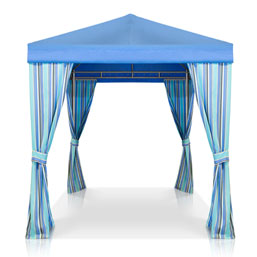 Standard Roof Cabana