Photos are for reference only. Lighting will affect the look of materials. Please order samples for an accurate depiction of finishes
Finishes
- Frame


bronze age

tex gray

tex black

tex bronze

kessler silver
midnight blue

champagne tex

tex white

hammer black

airship grey

seawolf

terra pewter tex

blue hawaiian river

cherry fizz
eminent ripple

sunrise river

grey black vein

splatter emerald

hana green

red silver

lemon silver

avocado copper
- Sling

Serge Ferarri
7300-50867
7300-50868
7300-50869
7300-50870
7300-50871
7300-50872
7300-50874
7300-50879
7300-50890
7301-50875
7301-50877
7300-5384
7300-5392
7300-5393
7300-5394
7301-5402
Phifertex

black
burlap

dupione kiwi

dupione poolside

dupione sapphire

dupione spice

garden green

grey sand
metallica platinum

metallica salsa

metallica smoke

metallica white

navy pier

reflection seaglass

royal blue

snappy

straw mat blue

straw mat cognac

stucco

white
Twitchell
sea breeze
• Powder Coated Aluminum Frame.
• All Powder Coating options available.
• Sling Fabric Seat & Back.
• Optional Cushion Available.
Dimensions
Seat Cushion Thickness: 2"
Back Cushion Thickness: 2"
Chaise Sling Seat Yardage: 2
Chaise Sling Back Yardage: 2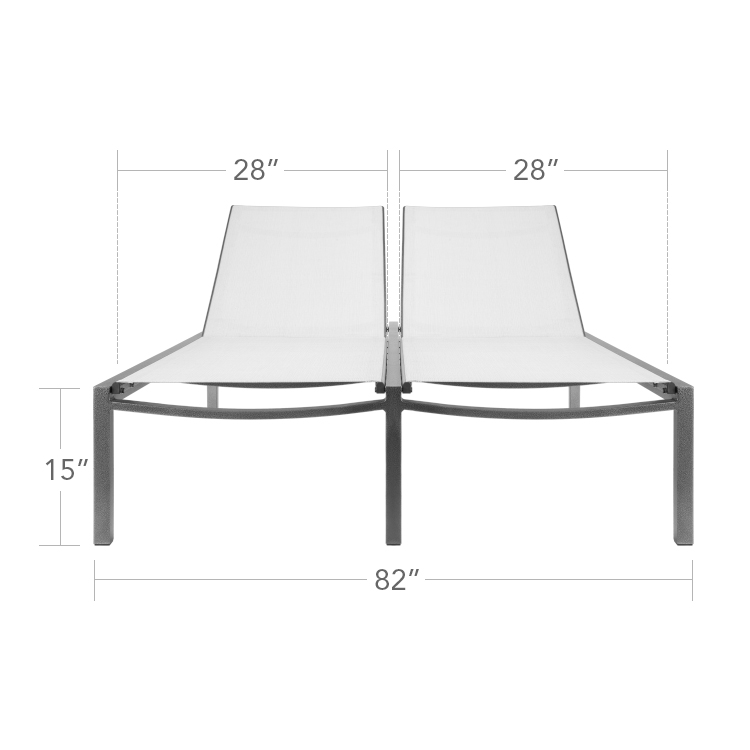 NOTE: Dimensions may vary by up to an inch. Weights are an estimate and for reference only.